We all know the rules when it comes to formatting a resume.
One page, Times New Roman font, streamlined personal information and experience. This tried and true template has been landing on hiring managers' desks for decades. But in an age when personal branding reigns supreme, and with digital media completely revamping how we process information, this format is becoming obsolete. That means it's becoming more important (and even expected​) for you to differentiate yourself from fellow job competitors. So, what's the first step? Bringing some life and creativity to your resume!
Check out these 5 unconventional resumes that really amazed us… will creating a resume like one of these be ​your next move?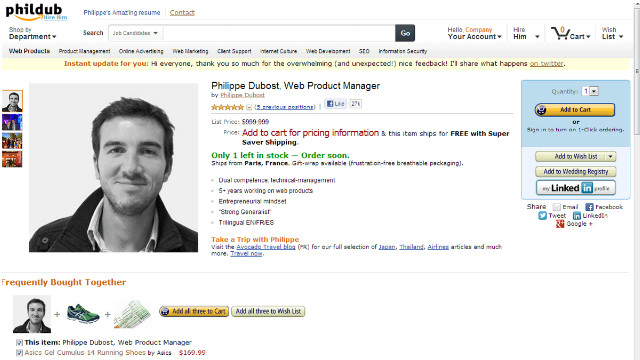 Philippe Dubost is a French-based web designer who cleverly fashioned his resume into an Amazon product page​, truly taking personal branding to the next level. He includes his dimensions, multiple photos of the himself, the "product," and a homemade ad. The resume features his work experience in the form of Amazon reviews – five stars, no less! – and he even includes items frequently bought with himself, such as running shoes and plane tickets as Dubost is a self-proclaimed running and traveling enthusiast. As for copying Amazon? He playfully quotes writer Charles Caleb Colton in tiny print at the bottom: "Imitation is the sincerest form of flattery."
Multimedia specialist Joe Kelso landed an interview with Google for ​his movie poster resume​. It features Kelso as the star of his own job-related horror flick (crafting the resume in 2007, he didn't know how fitting it would be only a year later). Film "credits" list his various skills, as well as his past work experience and education. Kelso believes his creative resume played a large part in landing many interviews that he wouldn't have secured had they been based strictly on past experience.
Attempting to channel his own creative juices, artist Omundi Abudho designed a resume that doubles as a juicebox, including faux nutritional values listing his "creative juice content" and warnings for traces of poetry writing and traveling. It's clever enough to interest a hiring manager while also being able to unfold and lay flat – perfect for making copies and viewing in a non-hassle manner. Other standout variations of foldable resumes include origami and paper fortune tellers, like ​this one​.
If you're feeling particularly adventurous, you can imitate Matt Stucky's ​pop-up resume​. A graduate of the Savannah College of Art and Design, he decided to play around with packaging of his resume using an eye-catching display – literally. The resume features a centered graphic eye, with the text "I see you" teasing from underneath. Folds on either side have fixed strings that lift inserts when opened, depicting his work experience and skill set as a designer. His website even includes cursory sketches of the prototype, with dimensions and proposed methods of attaching and pulling strings. Stucky hoped to capture his "eye-dentity," and we think he had his eye on the prize.
Finally, you can satiate your job search (and your prospective employer) with an edible resume…well, ​mostly edible. Meet Nick Begley, an MBA from the University of Florida who needed a way to make his resume standout. Begley decided the best way to employers' hearts was through their stomachs, so he wrapped his resume around a standard Nestle Crunch Bar, thus creating the "​Resume Bar​." Ingredients include People Management, Analytics and Brand Management, and a 100% daily value of Creativity…sounds like a recipe for employment success.
Your resume doesn't have to be quite as daring as these examples, nor should it rely on gimmicks to make up for experience or skills. Remember to gear your resume toward your audience: applying for a graphic design job would understandably warrant a more creative resume than, say, an accounting position. But no matter your area of job interest, drawing some inspiration from these could help mix it up the next time you're editing your resume. You never know when a hiring manager might appreciate some fun formatting…or even just a snack!